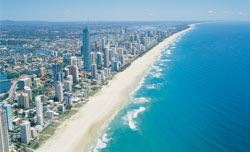 Sitting right on the beautiful east coast of Queensland, the Gold Coast is one of the most popular Schoolies destinations, with tens of thousands of Schoolies booking accommodation there every year.
With 52km of golden beaches, 300 days of sun and millions of visitors each year, the Gold Coast is a continuous whirl of sun, surf, sand and activity. It's an ideal location to celebrate Schoolies as it offers entertainment for everyone. Whether you're a beach-lover looking to relax in the sun, a water-sport enthusiast, a shopping and café type, or you're looking for exciting nightlife, the Gold Coast has it all and more. It even offers delights for nature-lovers, with rainforest walks, spectacular waterfalls and sweeping views of its hinterland.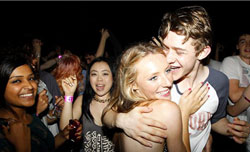 Sure Thing Schoolies Travel can take all the stress out of organising the perfect Gold Coast Schoolies Week. There is heaps of official Schoolies Accommodation to suit any taste and budget, and booking into Schoolies Accommodation guarantees an awesome time, with no hassles about being under 18 and heaps of official Schoolies events and parties to enjoy.
Sure Thing Schoolies Travel is concerned about safety as well, and there is always Sure Thing staff on hand in the accommodation in case help is needed.
If you're planning to celebrate Schoolies Week on the Gold Coast, now is the time to book as Schoolies Accommodation fills quickly! To take the first step fill in the form below, or email us at schoolies@surething.com.au One of our Sure Thing Dedicated Schoolies Travel consultants is waiting to answer all your questions and help you with all the arrangements.
Schoolies week for 2022 on the Gold Coast: Details and Packages are now available
All employees at Sure Thing Schoolies are fully Accredited and Qualified.